Carolyn Irene Mah
Canada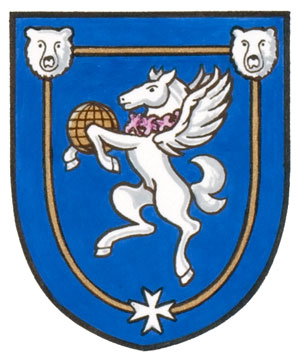 Artist: David Farrar
Registered in The Chinese Armorial, November 7, 2011.
Arms: The Arms of John Chew Mean Mah with the tressure charged in chief with two bears' faces Argent in place of the Maltese crosses.
Grant: Canadian Heraldic Authority, The Public Register of Arms, Flags and Badges of Canada, Volume V, page 120, March 15, 2007.
Background and History:
Carolyn Irene Mah bears the coat of arms of her father John Chew Mean Mah differenced by two bears' faces. Interestingly, the bear's face is not a mark of cadency for daughters in the Canadian heraldic system.