Christopher Swee Chau Liu
Great Britain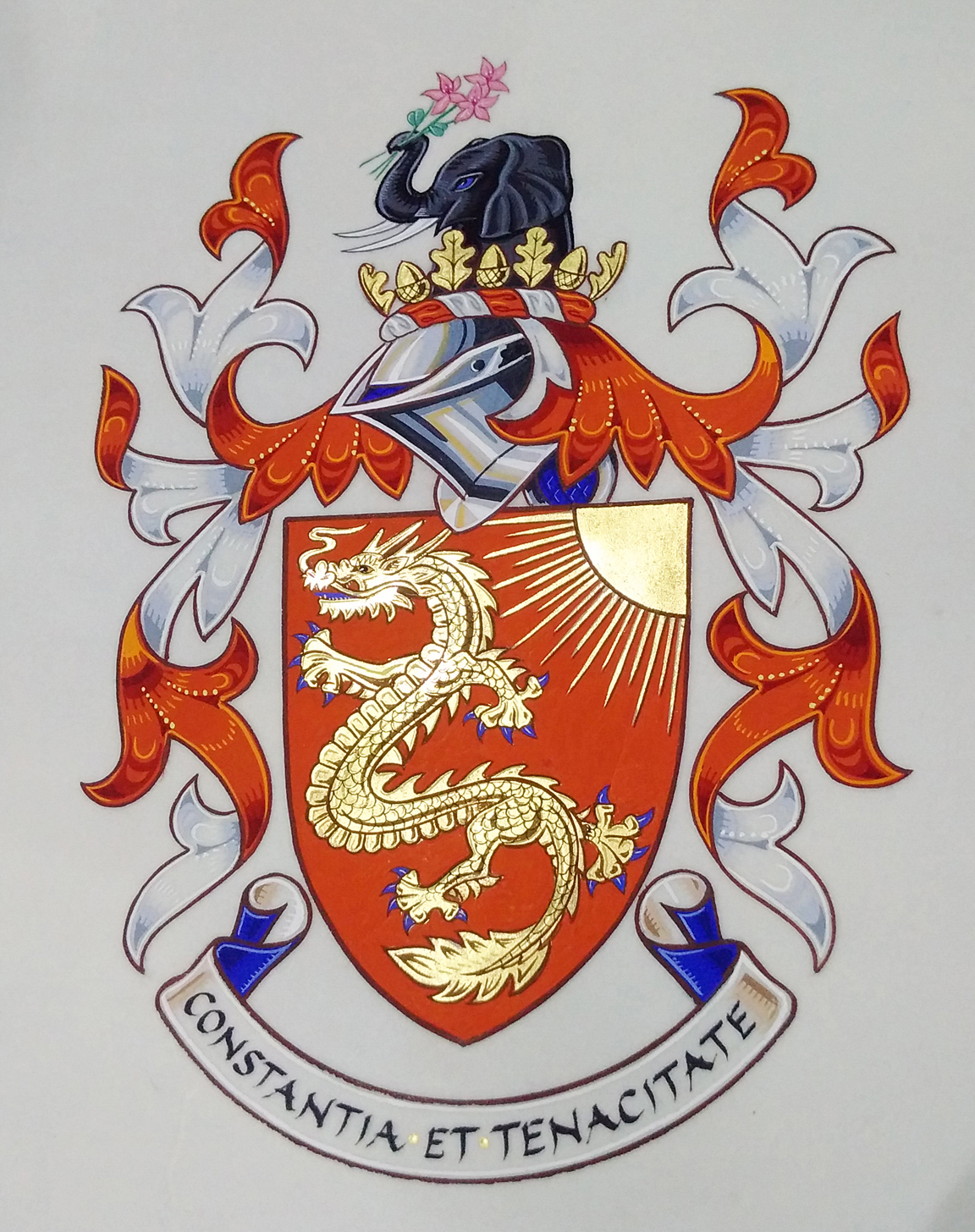 Artist: College of Arms (from Letters Patent)

Registered in The Chinese Armorial, May 29, 2017.

Arms: Gules an Imperial Chinese Dragon statant erect its dexter hindfoot and its sinister forefoot to the sinister issuant from the sinister chief a quarter bezant irradiated with straight rays Or.

Crest: Upon a helm with a wreath Argent and Gules issuant from a circlet of oak leaves alternating with acorns Or an elephant's head Sable armed Argent eyed Azure holding aloft in the trunk a bunch of Bauhinia flowers slipped proper mantled Gules lined Argent.

Motto: CONSTANTIA ET TENACITATE (Courage and Tenacity)

Grant: College of Arms, December 4, 2014.

Background and History:

Christopher Liu was born in Hong Kong to a medical family.  He went to Britain and trained in ophthalmology and became a Fellow of the Royal College of Ophthalmologists.  He was President of the British Society for Refractive Surgery (BSRS) from 2005 to 2008 and was President of the Medical Contact Lens & Ocular Surface Association from 1998 to 2000. He has been Research Lead in Ophthalmology at Brighton and Sussex University Hospitals NHS Trust, is Honorary Clinical Professor at Brighton and Sussex Medical School, Consultant Ophthalmic Surgeon at Sussex Eye Hospital, and Medical Director at Tongdean Eye Clinic.

Professor Liu caught the British media's attention with his achievements in OOKP (osteo-odonto-keratoprosthesis) surgery, a revolutionary form of artificial corneal implant for patients with end-stage corneal blindness, which uses one of the patient's own tooth to create the corneal implant. The technique was practised only in Italy, but Professor Liu studied it from Professor Giancarlo Falcinelli in Rome between 1993 and 1996. In 2004, he performed a very successful OOKP operation on a 42-year old woman, Judith Smith, who had been blind for 15 years prior to the surgery. Ms. Smith was overwhelmed with joy at seeing her grandchildren's faces for the very first time. In 2013, he used OOKP surgery to restore the sight of Mr. Ian Tibbetts, who had not seen the faces of his twin four-year-old boys until after the surgery. BBC TV made The Day I Got My Sight Back, a documentary about Professor Liu's surgery on Mr. Tibbetts. Professor Liu is the only surgeon in Britain who can perform OOKP surgery.

Red and gold are the traditional colours of China. The bauhinia flowers are a symbol of Hong Kong, Professor Liu's birthplace. The bezant irradiated Or symbolizes light and sight. The elephant symbolizes Burma, the homeland of Professor Liu's father. The elephant was also inspired by the crest of the coat of arms of Moorfields Eye Hospital, which has a similar elephant holding a surgeon's fleam instead of bauhinia flowers. The acorns symbolize antiquity and strength.

The blazon does not state the specific number of claws per paw on the dragon. In Chinese symbolism, the number of claws denotes the rank of the official: five claws for an emperor, four claws for a prince, and three claws for a general or high civil official. The College of Arms has painted the dragon with five claws because Professor Liu claims imperial ancestry, from his mother's side many generations back, from a child sired out of wedlock by one of the Li emperors of the Tang dynasty (compare his dragon with that of David See-Chai Lam, 25th Lieutenant Governor of British Columbia, whose blazon does not specify the number of claws but is depicted with five claws on the Letters Patent.).